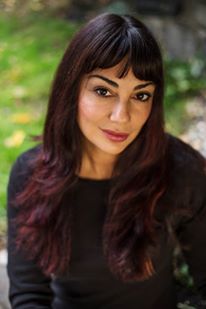 Shama is a transforming therapist, an artist and a business woman. She is the symbol of a free-independent woman coming from a Middle-Eastern country. This very contradictory nature of her upbringing gives Shama the color, the strength, the vision and the passion she now shares around the world. Shama inspires and encourages people to get out of their boxes thanks to her experience.
As a former-business woman, she had a successful career in fashion world. However, she always felt like something was missing in her life. Despite her professional accomplishments, deep inside she was feeling unhappy. And these feelings carried her in 2002 to connect to spirituality and to the journey of her personal transformation. Her travels brought her across the Osho teachings first. She started exploring herself and practises of meditation. "Diamond breath work" was the main key for her. She saw that breath work was getting her out of her patterned mind to finally reconnect to her true self. The more her system relaxed as a result of practising breath work the deeper her meditations became.
She quit her career and started living life as she really inhaled with all her heart. Life responded very well and she had the opportunity to work with the masters of breath in Europe. After training for 5 years, she completed the "Osho Diamond Breath School" in Italy and she started assisting and leading groups around the World
Her latest love affair is "Meditative Therapies" where the participants have the possibility to become their own therapists and patients… She loves to facilitate these groups and shares the space of a transformational journey and meditation with the participants.
Shama is the right address for people who feel "locked" in their lives searching for a support to move further – whether through a different direction or transforming the current one.
Shama's sessions combined breath work, meditations, bioenergetics,EFT and Somatic Experiencing(SE). She is passionate about sharing her knowledge and experiences with other beloved people all around the world
" My goal is to facilitate fellow travellers to deeper states of meditation and where they can find their true nature. Unfortunately contemporary man is much too active in the mind and they cannot experience deep meditative states. I am using all my techniques to free the system from the shackles of the busy mind and life so that we can drop into the silence and access the real source of our beings which is pure love" (Shama)
Some of Shama's trainings and certifications include:
• Hypnotherapy training – India
• Diamond Breath Master training – Italy
• Sexual awareness counselling training – Italy
• Relationship counselling training – Italy
• Eft Emotional releasing techniques – Thailand
• Reichen body types training – Italy
• Meditative therapies training – Greece and India
• Reiki 1-2 training – Turkey
• Somatic Experiencing training (Trauma Healing)- Canada